Your Steel Louvred Door, configured & built to order from your specification to your satisfaction
Steel Louvred Doors
Louvred Doors Manchester provides a wide range of manufactured-to-order Steel Louvred Doors, used for various applications where airflow is a concern but increased security is also paramount.
Our steel louvred doors are manufactured from 1.5mm galvanised steel, complete with additional internal steel strengthening as standard.
The frames are manufactured from 2mm galvanised steel and come with 2mm stainless steel thresholds, helping our steel doors have a longer life.
For additional rigidity, the corners are bolted to add further strength, whilst threaded fixing adjusters make it quick and easy to fit for our installers or your own.
Manufactured & Fitted In The UK
Our steel louvred doorsets are easy to install yourself, however, we are able to offer an expert, nationwide door fitting service at extremely competitive prices.
If your project also requires non-louvred Steel Doors, we can assist. Howard Mitchell Group also supplies and fits a wide range of Hinged Steel Doors to suit a variety of apertures and applications.
With a huge range of hardware and security-rated and fire-rated options, we pride ourselves on offering market-leading prices on made to order doors, along with superior service experience.
Contact us today on 0161 635 0130 or contact us via the forms/email provided and we'll gladly assist you with your needs.
Steel Louvred Door Uses Include:
Data Centre Doors
Bin Store Doors
Fire Exits (Panic Hardware)
Substation Doors
Meter, Storage & Plant Room Doors
Clean Rooms
Chemical Rooms
Cycle Store Doors
Power Station Doors
as well as many more
Contact Us Today For Your Free, No Obligation Quote
Steel Louvred Doors - Supplied & Installed
Your Choice of Steel Louvred Doors
Steel Louvred Door Standard Specs
Our Steel Louvred Doors composition & features:
Door Leaf
• Manufactured from two 1.5mm Galvanised steel skins
• Folded and mechanically fixed to form a strong and rigid 45mm thick door leaf
• Filled with internal steel strengtheners and mineral wool for ultimate insulation
• Anti-jemmy flanges to the leading edge of the leaf provide excellent jemmy resistance
Frame
• 90mm frames pressed from 2mm Galvanised steel into a single rebated profile
• Profiled headers to form a smooth butt joint with the vertical posts
• Joined with super strong M8 bolts to provide additional rigidity
• Fast fit frame which can compensate for most irregularities in the opening
• 16no threaded fixing adjusters per doorset, permitting tolerance of up to 18mm each side
• Shims and packers are not necessary, making an extremely secure fix
• Frames can be insulated if required
ALL ASPECTS OF OUR DOORS CAN BE MANUFACTURED TO YOUR BESPOKE SIZES, SPECS & HARDWARE REQUIREMENTS
Over Panels & Side Panels
• Fixed and removable options to allow maximum access
• Panels can be single or double-glazed, louvred to match the door leaf, or solid.
Thresholds
• DDA compliant 2mm stainless steel threshold
Seal
• Tubular silicone/rubber seal included for optimum weather, thermal and acoustic performance
Hardware
• Door leaves are hung from 4no stainless steel hinges for smooth operation and optimum weather resistance
• Security dog bolts secure the leaf into the frame if the hinges are attacked.
• Additional hardware includes a range of locks, latches, lever handles, panic hardware, closers and door restrictors
PPC Finish
• Powder coated to any RAL or BS standard. Marine-grade option available
Our louvred doorsets can be made in almost any size
Single, Double, Leaf & Half Options Available - Examples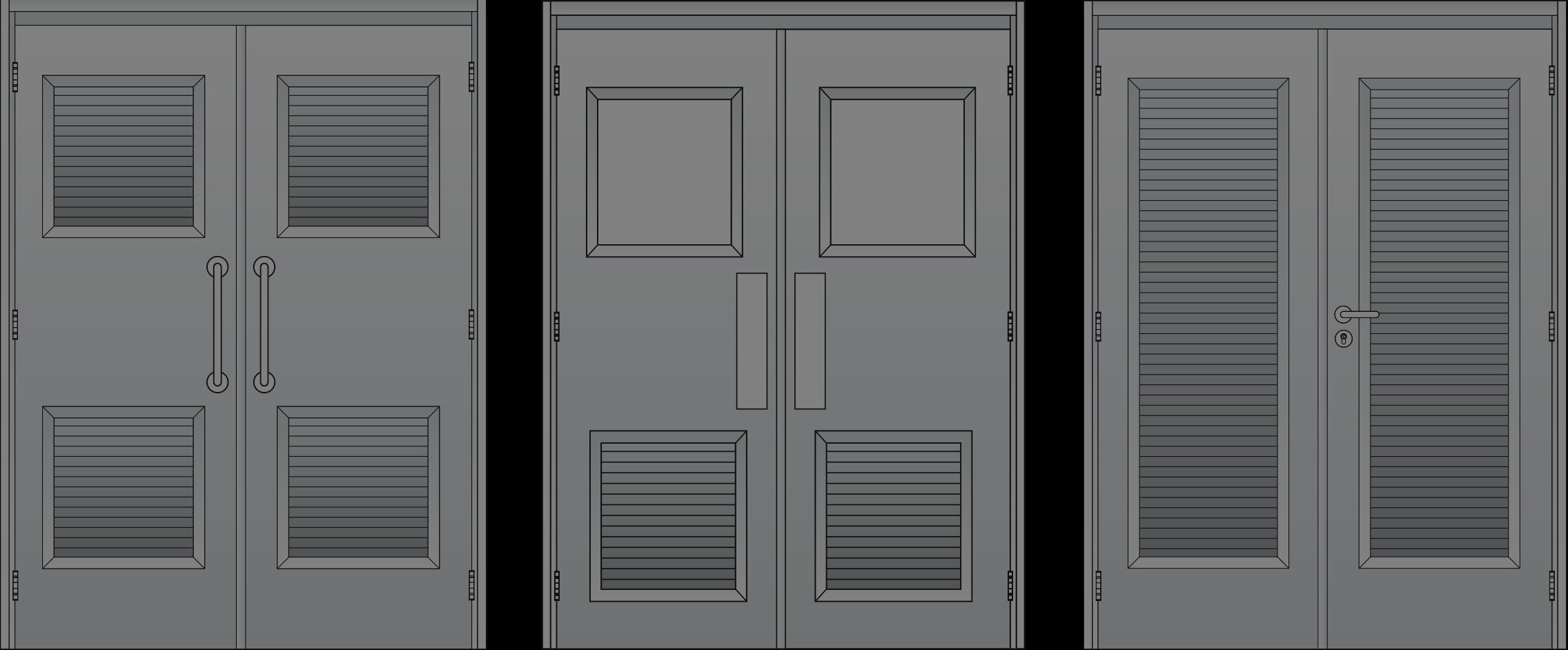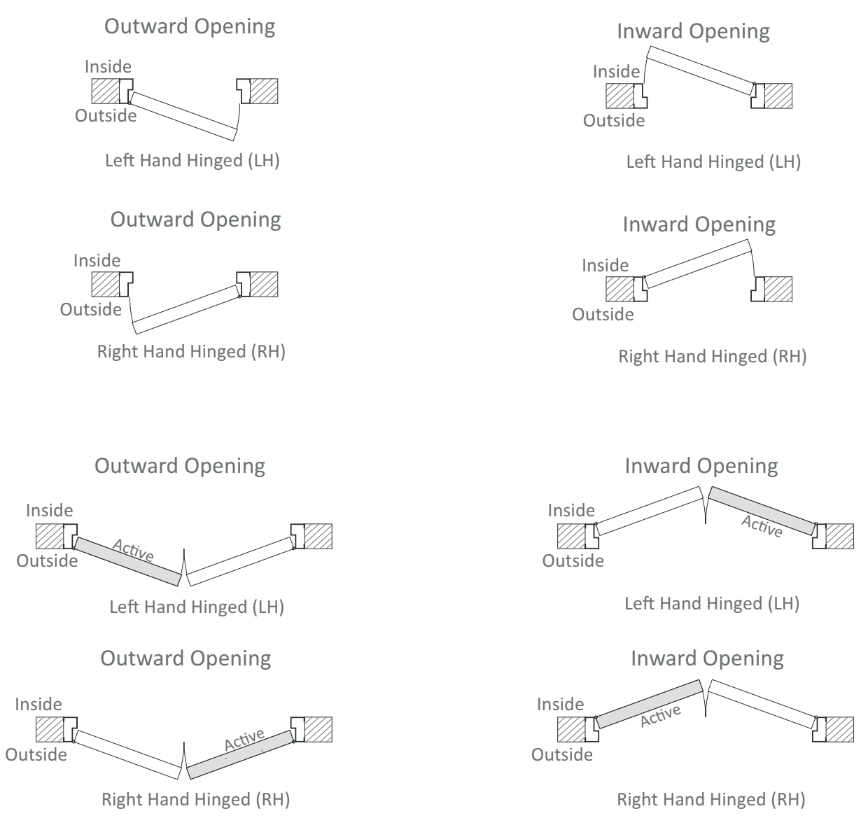 Easy to fit
Adjustable Frame
From 30 - 240 min certified
Fire Rated Options
Your Louvred Door, as you want it
1000s of Hardware Options
Setup for easy connection
Access Control Friendly
Pick a colour, any colour...
Steel Louvred Door Standard RAL Colour Range & Powder Coating Options
These colours represent only a small number of those that are available. Please ask if you cannot see the colour you require.
To improve the longevity of your doors, Louvred Doors Manchester Steel Doors are supplied in a high quality finish powder coating (PPC) at no extra cost.
A full range of RAL and BS colours are available, including metallics and pearlescents as an optional extra.
Louvred Doors Manchester is a C5 marine grade specialist, providing unmatched corrosion protection in steel doors supplied to highly corrosive and/or saline environments.
Please note this treatment is particularly recommended for doors which will be situated less than 50m from the coastline.
*PLEASE NOTE: These colours are for reference only and are an approximation of the true colours. The quality, type and settings of the output device used to display this page will also affect the visible colour. Some colours may be subject to an additional cost. Door sets that are installed in extreme locations, i.e. coastal areas etc., may require special paint applications. Louvred Doors Manchester sales staff can advise accordingly. Failure to notify/specify these applications can result in the negation of the guarantee.
A few companies we've worked with
Customers Include