Your fully louvred door, configured & built to order from your specification to your satisfaction
Aluminium Louvred Doors
Louvred Doors Manchester provides a wide range of bespoke-made Aluminium Louvred Doors, used for various applications where airflow is a priority.
Our aluminium fully louvred doors match the BL050, BL075, BL090, BL100 and BL50D louvre systems, but can be used standalone in almost any setting – ideal for substations, bin stores, data centres, plant rooms and any similar scenario.
Our fully louvred doors are compatible with a wide range of hardware options. As every door is manufactured to order, we're able to accommodate a huge variety of options. If you require something but can't see it on our website, just ask our friendly staff and we'll do our utmost to provide you with your needs.
Manufactured & Fitted In The UK
Our aluminium louvred doorsets are easy to install yourself, however, we are able to offer an excellent nationwide door fitting service at extremely competitive prices.
If your project also requires non-louvred Steel Doors, we can help with that too. Howard Mitchell Group also provides a wide range of Hinged Steel Doors to suit most apertures and requirements.
Contact us today on 0161 635 0130 or contact us via the forms/email provided and we'll gladly assist you with your needs.
Aluminium Louvred Door Uses Include:
Data Centre Doors
Bin Store Doors
Fire Exits (Panic Hardware)
Substation Doors
Meter, Storage & Plant Room Doors
Clean Rooms
Chemical Rooms
Cycle Store Doors
Power Station Doors
as well as many more
Contact Us Today For Your Free, No Obligation Quote
Aluminium Louvred Doors - Supplied & Installed
Your Choice of Aluminium Louvred Door
Aluminium Louvred Door Standard Specs
Our Aluminium Louvred Doors come complete with:
Standard Hardware:
• Mortice Deadlock
Guard (mesh) Options:
• Bird Guard– Galvanised steel with 12.7mm x 12.7mm apertures
• Vermin Guard– Galvanised steel with 6.35mm x 6.35mm apertures
• Insect Mesh– PVC-coated fibreglass, stainless steel or HDPE options
Options
• Fire/Emergency escape hardware (with or without external access device)
• Sash lock
• Blanking Panels, single skin or insulated
• Flush bolts
• Chain bolts (recommended on double doors over 2200mm high)
• Door stays (recommended on all doors unless closer fitted)
• Door closers
• Bespoke, customer requested hardware/ironmongery
• Removable transom and over panels
Finishes
• Unfinished aluminium (mill finish)
• Architectural grade Polyester Powder coatings to any standard RAL or BS 4800 range colours
• Anodised
ALL ASPECTS OF OUR DOORS CAN BE MANUFACTURED TO YOUR BESPOKE SIZES, SPECS & HARDWARE REQUIREMENTS
Our louvred doorsets can be made in almost any size
Single, Double, Leaf & Half Options - BL50LD Examples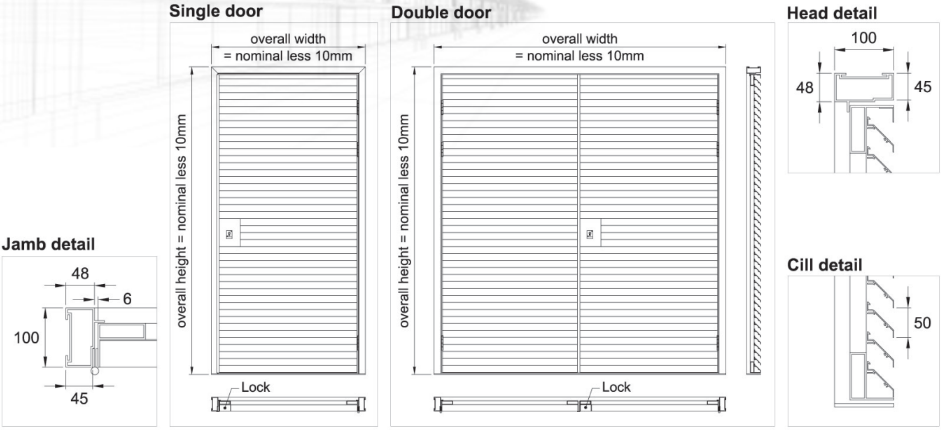 Single, Double, Leaf & Half Options - BL75LD Examples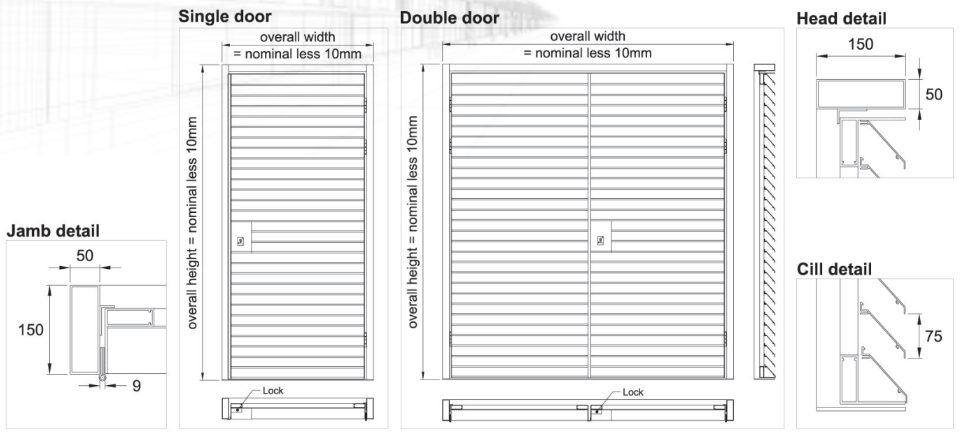 Easy to fit
Adjustable Frame
From 30 - 240 min certified
Fire Rated Options
Your Louvred Door, as you want it
1000s of Hardware Options
Setup for easy connection
Access Control Friendly
Pick a colour, any colour...
Aluminium Louvred Door Standard RAL Colour Range & Powder Coating Options
These colours represent only a small number of those that are available. Please ask if you cannot see the colour you require.
To improve the longevity of your doors, Louvred Doors Manchester Steel Doors are supplied in a high quality finish powder coating (PPC) at no extra cost.
A full range of RAL and BS colours are available, including metallics and pearlescents as an optional extra.
Louvred Doors Manchester is a C5 marine grade specialist, providing unmatched corrosion protection in steel doors supplied to highly corrosive and/or saline environments.
Please note this treatment is particularly recommended for doors which will be situated less than 50m from the coastline.
*PLEASE NOTE: These colours are for reference only and are an approximation of the true colours. The quality, type and settings of the output device used to display this page will also affect the visible colour. Some colours may be subject to an additional cost. Door sets that are installed in extreme locations, i.e. coastal areas etc., may require special paint applications. Louvred Doors Manchester sales staff can advise accordingly. Failure to notify/specify these applications can result in the negation of the guarantee.
A few companies we've worked with
Customers Include