Louvred Screens & Enclosures
Louvred also supplies a range of bespoke Louvred Screens & Enclosures, suitable for applications where airflow is important, or even as a decorative addition to your building or property. Standalone enclosures are also available for use as smoking areas, garden dividers or similar applications.
Our Louvred Screens & Enclosures are available for on-site assembly, which consists of fitting the panels into a continuous louvre screen, with flanged or recessed type frames available.
The Louvred Screens we provide are constructed with internal and external mitred corners and are designed to accommodate either single louvred doors or double louvred doors, whilst still maintaining a continuous appearance.
Louvred blades are mounted on concealed mullion supports, allowing easy side-by-side installation. Thanks to this, there is no limit to the size of the louvred screens, however, where height is in excess of 2000mm, additional steelwork support (usually provided by others) may be required.
Manufactured & Fitted In The UK
Installation is available throughout the UK via our experienced installation teams. All our installation teams carry the necessary CSCS cards and powered access licences.
Our quick build, site-assembled system offers rapid delivery combined with cost savings, whilst retaining the Howard Mitchell Group quality.
If your project also requires non-louvred Steel Doors, we can help with that too. Howard Mitchell Group also provides a wide range of Hinged Steel Doors to suit most apertures and requirements.
Contact us today on 0161 635 0130 or contact us via the forms/email provided and we'll gladly assist you with your needs.
Louvred Screens & Enclosures Specifications
• Aluminium Extrusions Type 6063-T6 to BS1474, min. thickness 1.6mm
• Site assembled – quick, efficient, cost effective. Ideal for large screening projects
• Flanged or recessed frame types available
• Internal and external mitred corners
• Designed to contain single or double hinged doors, whilst keeping a consistent appearance
• Louvre blades mounted on aluminium clip brackets on 75mm pitch
• 38mm or 60mm deep mulions at max 1000mm centres
• Sizes of the panels are custom made to your requirements
Fixing
• Fixes directly into curtain walling glazing system in place of glass
Options
Insect Screen
Blanking Panels (single skin plate or insulated blanking panel)
Vermin Guard
Alternative frame depths (30mm, 36mm, etc.)
Finish
Mill finish as standard (untreated and unpolished aluminium)
Polyester Powder coatings to any standard RAL or BS 4800 range colours
Special finishes available on request
Anodised finishes
Nominal Free Area
• 54.9% with bird mesh fitted
Maximum BSRIA Weather Test Rating (Simulated rainfall 75mm/hr, wind speed 13m/sec)
• 91.05 – Class C, based on BLS75/100/BG test data
Our Louvred Screens & Enclosures can be made in almost any size
Louvred Screens & Enclosures Detail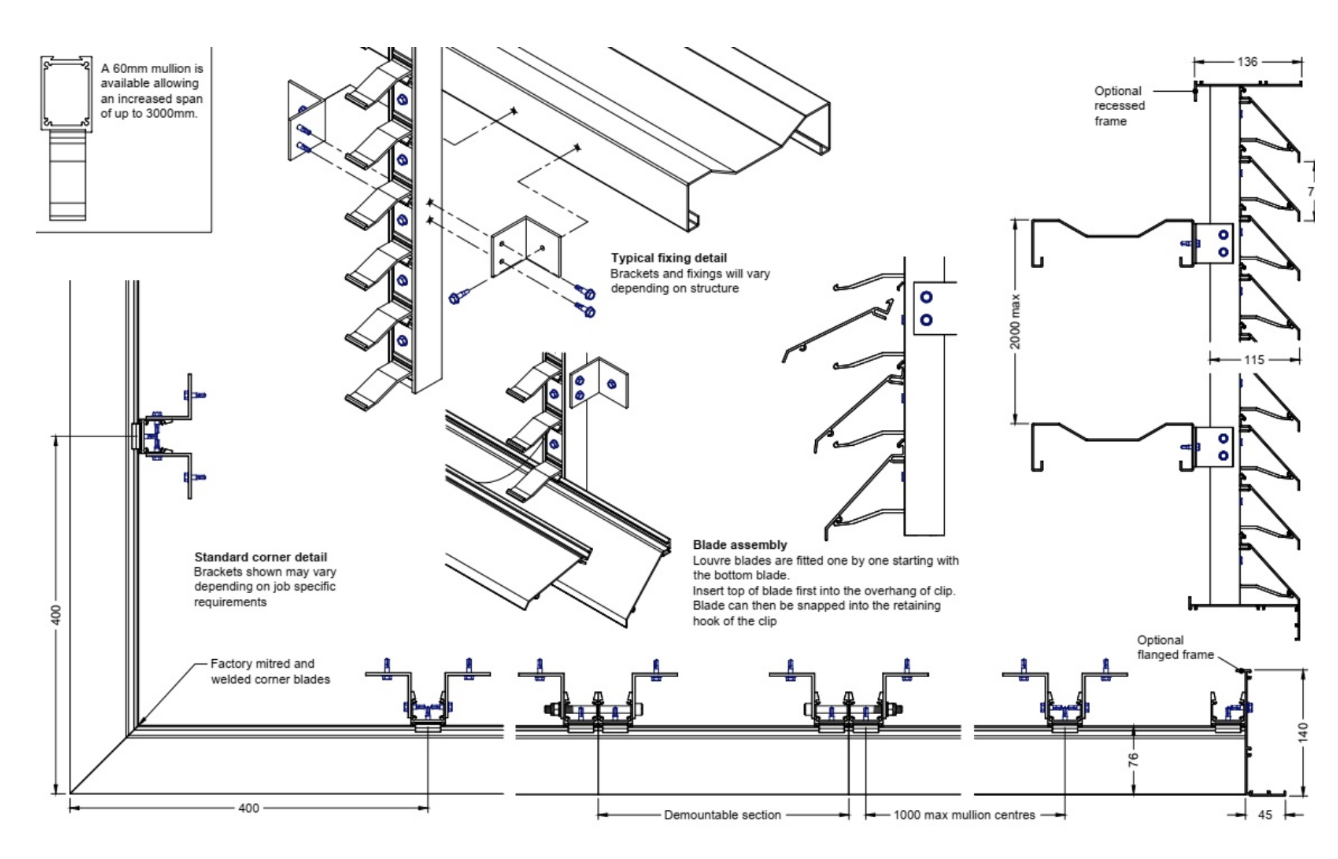 Site Assembled
Qualified Fitters
Rapid Delivery & Fit
Assembled On Site
Cost Effective
Ideal For Screening Projects
Superior Airflow
Multiple Mesh Options
Pick a colour, any colour...
Louvred Screens & Enclosures Standard RAL Colour Range & Powder Coating Options
These colours represent only a small number of those that are available. Please ask if you cannot see the colour you require.
To improve the longevity of your louvred products, Louvred Doors Manchester Louvred Screens & Enclosures are supplied in a high-quality finish powder coating (PPC) at no extra cost.
A full range of RAL and BS colours are available, including metallics and pearlescent as an optional extra.
Louvred Doors Manchester is a C5 marine grade specialist, providing unmatched corrosion protection in steel doors supplied to highly corrosive and/or saline environments.
Please note this treatment is particularly recommended for doors which will be situated less than 50m from the coastline.
*PLEASE NOTE: These colours are for reference only and are an approximation of the true colours. The quality, type and settings of the output device used to display this page will also affect the visible colour. Some colours may be subject to an additional cost. Door sets that are installed in extreme locations, i.e. coastal areas etc., may require special paint applications. Louvred Doors Manchester sales staff can advise accordingly. Failure to notify/specify these applications can result in the negation of the guarantee.
A few companies we've worked with
Customers Include